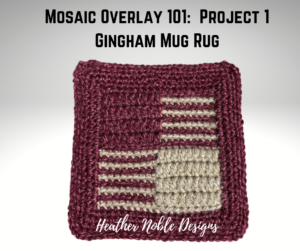 Hi there!
Welcome to my Mosaic Overlay 101 series! This is a 4 part curriculum I developed to introduce people to the mosaic overlay crochet technique. Each project is small and can be made with yarn you have lying around the house. (If you're like me…there is PLENTY of yarn lying around the house!!!)
Project 1 is my Gingham Mug Rug! In this session, you will learn how to make the body of the project. I have a separate tutorial on making the border in a later video. Download the free pattern below the video. It includes both chart and written forms. Enjoy! ☺
Thanks for joining me today! Feel free to email me with any questions or if you just want to say hi!
Want to learn more? Check out Project 2!!! http://heathernobledesigns.com/2022/09/mosaic-overlay-101-project-2/
Here is the link to all the places you can find me. https://linktr.ee/heathernobledesigns
Have a great day!
Heather ♥