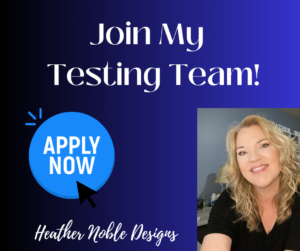 Hi there!
I am now accepting applications to join my pattern testing team! Please note: most of my patterns use angled stitches. It will be helpful if you've worked with my designs before applying to test. If you haven't, I have a free pattern you can try here. https://www.ravelry.com/patterns/library/heart-mug-rug-2
Once approved, a tester will receive the pattern for free in chart and written form (Mosaic
Overlay Crochet). In return, I will use photos from the tester to promote the
pattern in social media and print when it's released to the public. I also have a weekly progress photo check-in on Fridays during the testing period.
If you are interested in applying to become a pattern tester for me, please send an email to [email protected] with the following:
Sample photos of your mosaic overly crochet work (make the free sample above if you haven't made any of my designs before)
Years of crochet experience
Hours per week you plan to devote to testing
Do you prefer to use charts or written patterns? (you will compare both formats as you work if you are a tester, but I like to know your preference)
Have you been a pattern tester before?
Please let me know which design you're interested in testing in your email.
I look forward to getting to know you better! ♥
-Heather