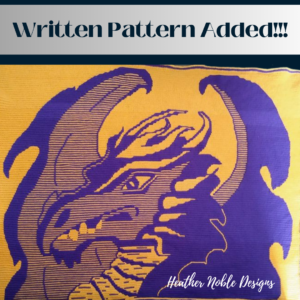 Hi Everyone!
I have updated my Dragon design to include a written pattern!
Ravelry: https://www.ravelry.com/patterns/library/dragon-blanket-3
Etsy: https://www.etsy.com/listing/1149556733/dragon-blanket?click_key=0aefc6ad467ab1c97f0aeeb7d8d6a660b6b2391c%3A1149556733&click_sum=59942a2f&ref=shop_home_active_18&crt=1&sts=1
If you have previously purchased this pattern, you should have received a notification with a link to download the new files. I also updated the instructions packet to include several more video tutorial links that I've made since originally publishing this design.
If you have any trouble accessing the new files, PM me with your email address and I'll send them to you directly.
Special thanks to my pattern tester, Kimberly Splawn, for her beautiful work and spectacular use of color!