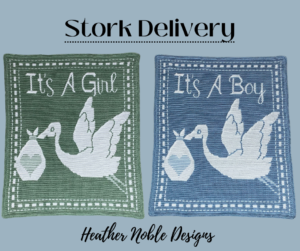 **New pattern release**
Welcome the newborn in your life with my newest baby blanket design -Stork Delivery! This pattern includes both version of the design (Boy and Girl).
To celebrate the release of this pattern, I am running a 30% sale on all my baby blanket designs. Use Code: BABY30 at checkout to get this discount!!! See all 10 of the included designs in my Ravelry and Etsy Collections under "Baby Blankets".
Stork Delivery is a Level 2 – Intermediate design (angle stitches).
Ravelry: https://www.ravelry.com/patterns/library/stork-delivery-blanket
Etsy: https://www.etsy.com/listing/1440765372/stork-delivery-blanket?click_key=1ff054d51fb69e379fac62313d17cbdf71b9c9ac%3A1440765372&click_sum=901d68db&ref=shop_home_active_1&sts=1
Written for Mosaic Overlay Crochet, this pattern includes:
Charts:
Written Pattern
Detailed Instructions packet
Stitch Key
Photo tutorials
Video tutorials for each type of stitch used in the pattern
I have a Facebook group dedicated to answering questions and building community around my patterns. Please join us! https://linktr.ee/heathernobledesigns